28
Jul
(fail, fugz, ghey, MyDrama, Twitter, YouTube)
Okay, where do I start? This non-famous wanna be celeb who's name goes by "Electric Luxury" is so desperate for fame. First of all, he Tweets to celebs like he talks to them & is friends with them, GET OVER IT! He's had a few Twitter fights because people call him a fame whore, which he is. Posting disgusting pictures & videos of himself on MySpace, YouTube & Twitter, I guess he really likes to embarras himself A LOT. When he did that "Size of Your Boat" Promo from Jeffree Star & Muff Mommy, EWW.
Don't even wanna talk about it. He photo shops himself wayyy to much. More than half of his comments on YouTube are hate comments. He sings, really????? His single "Sweet Revenge" is the only song people like NOT! Please stop exposing yourself to the internet, if you are be real because you lie to US & YOURSELF!
Just because you talk to @MUFFMOMMY doesn't mean you're now famous!
Stop posting pictures like these on the internet you are not so good looking, if you lose weight maybe you would haha, NOT!
http://www.myspace.com/electricmurderofficial
http://www.twitter.com/electricluxury
27
Jul
(fugz, MyDrama, YouTube)
27
Jul
(fail, MyDrama, YouTube)
Well everyone I'd like you all to meet Rachel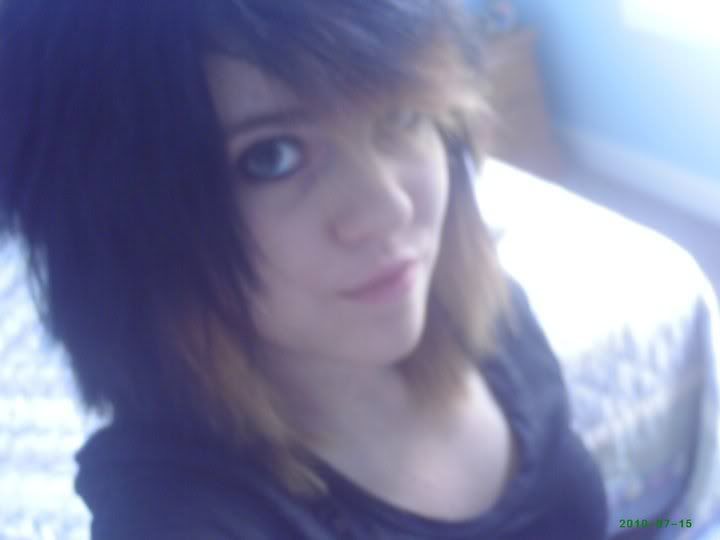 Now Rachel here, like most teenagers has a youtube account.
Except she is one of millions of youtubers that really shouldn't be on youtube.
(If you can't sit through it, I can completely understand)
Warning: Ears may bleed


26
Jul
(brand new, club, Facebook, ghey, Music, YouTube)
I was on facebook this morning and seen that I was invited to a "fan page" of this rapper by the name of Steven Joseph (must have some spiritual connection to jesus).. anyways he wrote a song called Bitch! which features a fat girl with talentless rapping / singing. This was posted on youtube a while ago I guess.. waste of human life / good music

this fan page of his has almost 1000 people who are either over weight or scene that like him.. what else is new?
21
Jul
(Amor Hilton, MyDrama, twins?, YouTube)
18
Jul
(blondes, Facebook, fugz, ghey, MyDrama, Twitter, YouTube)
I'm in shock. I have no words. Watch this. I need to know what kind of happy pills that guy's been taking.

the diva hand. will it get big? like he says so? whatever the hell hogwobbin means?

his "music video"

also he does very beautiful notes like he says so. hes doing a show in london!!!!!?

This irritates me so much but his laugh and some of his facial expressions remind me of a female actress… I swear it's a character from Sabrina The Teenage Witch.
his facebook: http://www.facebook.com/PhatGayKiD
his youtube channel: http://www.youtube.com/user/PhatGayKiD
17
Jul
(lol-cows, MyDrama, YouTube)
Im sure you all have heard about the Jess Slaughter issue and you all have your opinions yada yada yada. Her breakdown video was put on YouTubes front page. (Pathetic I know) However, I think this girl has a lot of issues. The threats against her werent appropriate and I can be harsh sometimes. But this Jessi Slaughter has some major issues, as do her parents.
I stumbled across another site that had these. This is Jessi "Not giving a fuck" what the haters say:
Hmm a little conceited ey?
She seems to be recovering well from her recent "Breakdown". Looks like things wont change for JessiSlaughter.
"Any type of Fame ill take". Shes a lost cause.
17
Jul
(BOTDF, current events, MyDrama, spoofs, YouTube)
[Sticky's note:  This video is not so lulzy because of Jay and Dahvie's performances, as because of the context.  Our readers will recall that this apparently national controversy began as a MyDrama post reporting an allegedly unlawful relationship between Dahvie and Jessi; Jessi is (or probably now WAS) a fan of BOTDF and has appeared on video wearing BOTDF merchandise. Is this video an attempt by BOTDF to gain national media exposure by inserting themselves more prominently into the controversy?  WELL DUH!  StickyDrama knows all about that game, lol.]
Sorry if you guys are tired about that Jessi Slaughter girl, but I just thought this video was hilarious.
x)
Next Page »