28
Jul
(fail, fugz, ghey, MyDrama, Twitter, YouTube)
Okay, where do I start? This non-famous wanna be celeb who's name goes by "Electric Luxury" is so desperate for fame. First of all, he Tweets to celebs like he talks to them & is friends with them, GET OVER IT! He's had a few Twitter fights because people call him a fame whore, which he is. Posting disgusting pictures & videos of himself on MySpace, YouTube & Twitter, I guess he really likes to embarras himself A LOT. When he did that "Size of Your Boat" Promo from Jeffree Star & Muff Mommy, EWW.
Don't even wanna talk about it. He photo shops himself wayyy to much. More than half of his comments on YouTube are hate comments. He sings, really????? His single "Sweet Revenge" is the only song people like NOT! Please stop exposing yourself to the internet, if you are be real because you lie to US & YOURSELF!
Just because you talk to @MUFFMOMMY doesn't mean you're now famous!
Stop posting pictures like these on the internet you are not so good looking, if you lose weight maybe you would haha, NOT!
http://www.myspace.com/electricmurderofficial
http://www.twitter.com/electricluxury
28
Jul
(Brandon Hilton, fail, MyDrama, Myspace)
Sticky Drama has most likely gone to the dogs, while I appreciate that Chris needs to make money in order to sustain his existence as well as this site, I think we can all agree the pop ups and redirected pages are pissing us off.


Add to that the fact that Amor Hilton has gotten boring, so much hypocrisy is only interesting for a limited amount of time (and I doubt anything else she does now will surprise us), Dahvies suspected kiddie fiddling is frankly overdone and I think we are all aware that Taryn Elizabeth is not a size 0 and spends too many hours on photoshop.
To write a decent post, I have to either go on about the same deluded events that amalgamate to become Brandon Hiltons life. On troll the graveyard of Myspace for some lulz.

Introducing 'Tri$h Brutal' whose 33K of inactive myspace friends are enough to convince her that a circa 2007 coon-tail hair style is still socially acceptable. She also happens to own a copy of Photoshop and the handbook of 'Fat Girl Angle Shots for SIF's and Dummies'.


She also has somehow managed to procreate (She has a 9 month old son). Surprise surprise, the guy featured in the photo is not the father, but her internet boyfriend turned IRL BF. At this point I will add that according to her myspace she is 20 (so unusually this was all legal..unless she committed statutory rape herself).
Because for my writing ability, I feel that this is a terrible post, I will finish it with a crescendo of fail, by feeding @BrandonHilton's ego.


Watch this video of one of his terrible shows
How much money are you wasting on your failing attempt of a music career Brandon? Did you even pay for the cardboard cut-out at the front to make it look like someone would bother watching this bar your poor Mother?
27
Jul
(fail, MyDrama)
Don't you just hate when people can't stay away from the internet? well a group of scene fails takes that to an extreme level. they call themselves "thegrimreapers". they watch chatrooms ALL day and boot people off of there. they literally have no life. i dont even think they sleep. this "group" is a joke. they admit to having no life. dont believe me?
see for yourself http://www.meebo.com/room/paramoremyspace52463bb6
leave comments with your experience.
27
Jul
(fail, MyDrama, YouTube)
Well everyone I'd like you all to meet Rachel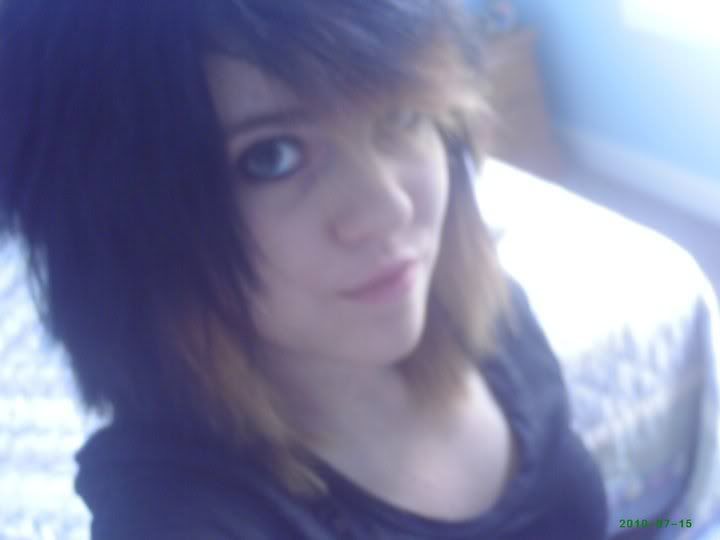 Now Rachel here, like most teenagers has a youtube account.
Except she is one of millions of youtubers that really shouldn't be on youtube.
(If you can't sit through it, I can completely understand)
Warning: Ears may bleed


23
Jul
(blondes, dun goofed, fail, ghey, MyDrama, tumblr, Twitter)
So I was on Tumblr and saw that one of the people I was following rebloged something that Jackson Jawbreaker posted.  I had head about him before from this site so curiosity took over and I went to his page.  He had some funny stuff so I kept looking through it only to find this:
I found it lulzy.  I suppose he was drunk (I mean, look at it).  He just posted his info for the world to see.  I went to his Twitter and saw that he had linked to his Tumblr, telling people to call him.  Seems a little stupid considering he has over 25 thousand people on the thing.
Then when I went to his Twitter today I saw this:
Wonder why you dumb faggot.
JacksonJawbreaker.tumblr.com
twitter.com/jaGKson
(Note to Sticky: Don't remove this post please.  He posted the info himself, and even four days later hasn't removed it so it's fair game.   Please remove this note if you do post it.  Thanks.)
[Sticky's note:  I blurred his number.]

13
Jul
(Dahvie Vanity, fail, MyDrama, YouTube)
this  11 year old slut is so convinced that shes famous, scene and thinks she knows dahvie vanity. In reality she is ugly has no friends and makes eve crappier "music" then dahvie himself. This is the worst song I have ever heard in my life. Since I know jessi will read this get off the internet nnobody is a fan of you, you will never be famous. You will never have our respect. I am not posting this because I am jealous of you rather This song is so terrible its stickyworthy.
ps. Put some fucking clothes on
3
Jul
(fail, fugz, MyDrama, Myspace, scene is dead)
When will these fucks realize that the scene is fucking DEAD? Or at least it needs to be.

Excuse me while I gouge my eyes out.

Ans yes, they are being serious.

Oh my God. Words can't even express the amount of eye bleach I need right now.
Myspace:http://www.myspace.com/cassie_zombie
2
Jul
(fail, MyDrama)
His guitar skills are AMAZING :O
…wow just wow!
</sarcasm> damn he sucks ass!
Next Page »