20
Jun
(Daniel Hilton, fail, Jeffree Star, Music)
Alright, so all I could think was that @JeffreeStar would make the best, and I mean the sickest music video for "Beauty Killer."  That's actually one of my favorite songs off of his album, which was released September of last year.  After seeing his previous video for "Get away with murder (GAWM)," I seriously thought that @JeffreeStar would go all out this time.  He even said in his twitter that this is a "different" side of him.  It does show him and disgusting @DanielLucasOX naked on a couch:  WOAH, now that's something the crowd hasn't seen before, right?
I admit that I still love jeffree and all but, come on he has all this money that he spends on Coach bags, clothes and what not—but he couldn't put anything into that video?  It's seriously 3 wigs (plus his regular hair) on a white background, 1 scene on a couch nude with Daniel, and 1 with Jeffree in his blue wig on a chair.  And there's that occasional ugly crown with his blue hair that he bought at Party City.  But honestly Jeffree, you've bored your crowd.  Fire @AustinYoung and get the director for GAWM because this music video SUCKED.
Beauty Killer Music Video
(more…)
26
May
(Dani Vanity, Daniel Hilton, fugz, Jeffree Star, MyDrama)
Jeffree posted a new video for "THE SIMPLE FAG LIFE" and it has "Dahvie Vanity" in it..and DAMN.. take a look at the fat fuck for yourself.
Skip to 1:20
Also, this video is proof he SUCKS without all that autotune bullshit.
19
May
(BOTDF, Daniel Hilton, Home, musicians, News)
I love jeffree star, I personally do; but there is a lot of dirt to talk about today kids!
First off @JeffreeStar recently did an interview with "Change The Record." Which talks about concerts, and my most favorite band Blood On The Dance Floor.
In the interview he responds to the question, "You collaborated with BOTDF on Sexting, and Inject Me Sweetly, how did that come about?" with "I'd heard about them for a while, and it's kinda similar to myself and BrokeNCYDE where a lot of people hate it, so I checked it out and I thought it was funny, and I thought it was catchy; they're like me with my old shit, very low quality kinda, like mine, and they're just finding their sound. They're developing a lot, and Sexting was their biggest song so I thought I'd do a little remake of it. They're fun, they're really cool!"
Hmm, in there it says that their music is that blood on the dance floor's music is like his "old" music, very low quality. Where the fuck is it low quality at all, and they are NOTHING like your old stuff hunny. Your old stuff was pretty fucking much about cupcakes and razor blades. Yeah you're right that they are finding their sound, which they did, in their new album coming out in October.
Alright so that was my first order of business, NEXT!
Alright so this disgusting piece of shit, that Jeffree calls a friend (god knows why) feeds off Jeffree's fame. He now not only dances like an asshole at Jeffree's concerts:  He sings too. LMAO, is all I can say. He trys to be good and all, and fails completely. Oh did i tell you guys?! He's starting his own side project. Wanna know what it's called?  It's called Whatever. Nice name, right? You can find him on myspace at http://www.myspace.com/whatevermusicxo and he actually has a new blog up now go check it out, he talks about how hes "not" trying to be like Jeffree ;D! fail.
19
Apr
(Daniel Hilton, Lady Gaga, MyDrama, twins?)
This might be old news, or maybe just not recognized.  But, I was watching MTV music videos and @LadyGaga's "Telephone" came on, & it showed a picture for one second, and I thought, "He looks familiar!'"
So,  I rewinded it and found this:
Is that @DanielLucusOX, @JeffreeStar's proclaimed "best friend"?  If so, Why didn't Gaga let @Brandon_Hilton be in the video too? 😉
http://www.myspace.com/daniellucasoxford
18
Feb
(catfights, Daniel Hilton, MyDrama)
So I was on my twiteer and i saw Daniel posting a very funny or shall I say…insulting tweet and this kid came up and started arguing with him.
And then even J* comes up and starts to talking shit to the kid. ohwell dramadramadrama dont we all love it?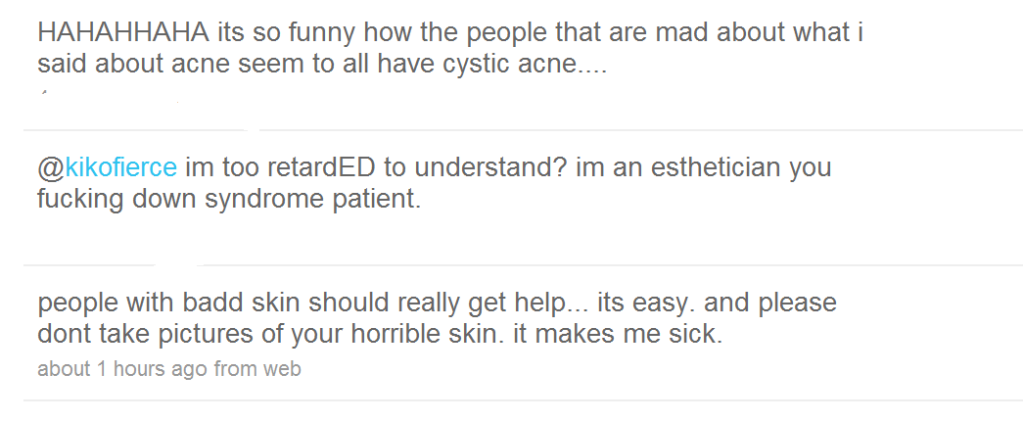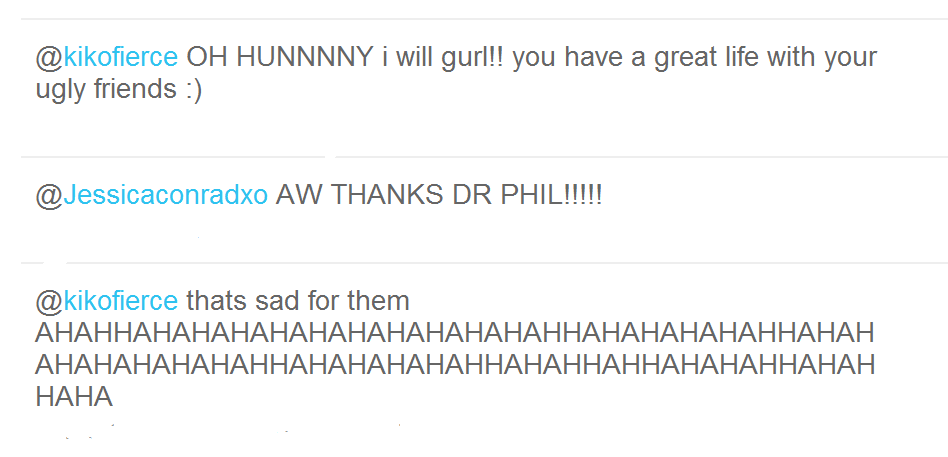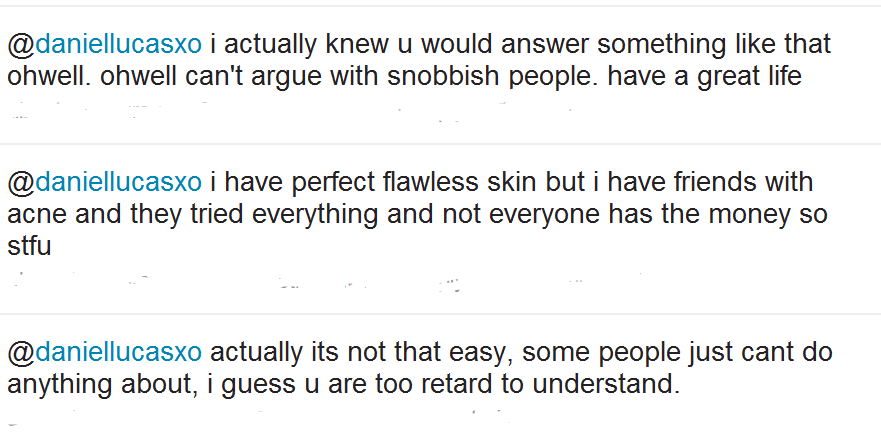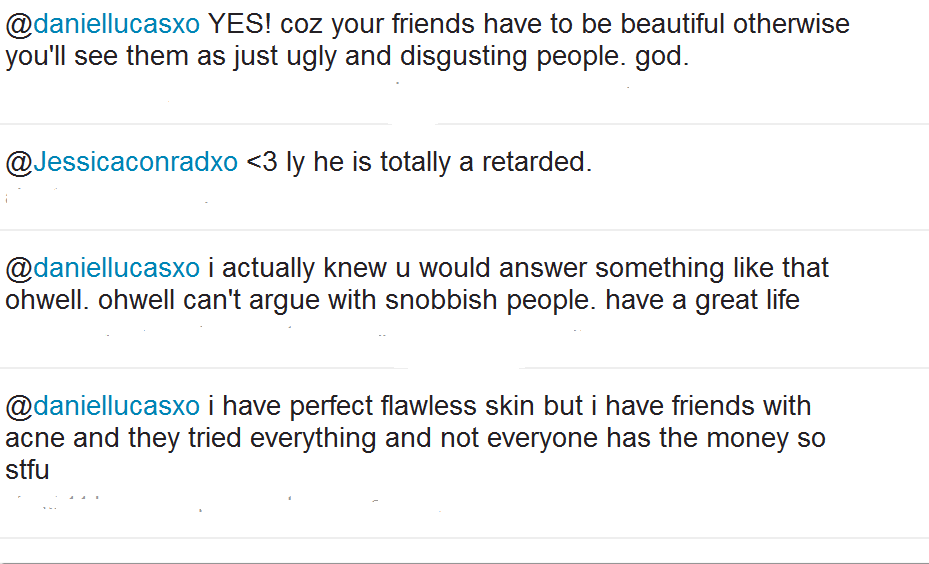 So is Daniel funny or just a completely snobish and sucker of J* ?
http://www.twitter.com/daniellucasXO
http://www.twitter.com/kikofierce
31
Jul
(Daniel Hilton, ghey, Jeffree Star, News)
All I can say is…THANK GOD.  I hate Daniel. It's been so obvious to me that he was only friends with Jeffree for the fame.  He would often go on Jeffree's stickam when he wasn't even with Jeffree.  He was a complete bitch to every girl who would go in the room and refused to allow them on cam.  Daniel is ugly and a sad excuse for a tranny.
Jeffree's announcement:
Daniel's tweets:
Hmmmm … and the millionaires think he's really their friend?  I think he's just going to use them just like he tried to use Jeffree.
14
Jan
(Adam Paranoia, Anthony Vanity, Audrey Kitching, Brandon Hilton, breakups, Chris Crocker, Daniel Hilton, exploits, fakes & impostors, Geoffrey Paris, ghey, Hanna Beth, Jeffree Star, John Hock, Johnny Boy, Kayvon Zand, Kiki Kannibal, Matthew Lush, MyDrama, Myspace, n00dz, Perez Hilton, Stevie Ryan, Stickam, whoredom, yummy boyz)
10
Dec
(Daniel Hilton, News)
Daniel Imjeffreestarscousin Hilton was seen teaching viewers how to suck cock … because she IS a pro. Danny: STOP trying so god-damn hard.
We all know you suck, but not in a good way. Keep practicing on popsicles, you'll need the skills to work the corner once you've realized that the Internet doesn't care about you.