Brandon Hilton asked me for nudes.
I'm fifteen.
Do the math.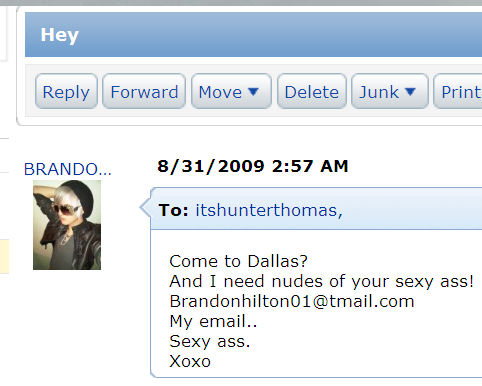 TELL me that's not fucked up.
http://www.myspace.com/brandonhilton
http://www.myspace.com/hungryhungryhunter
[Sticky's note: We're mildly offended by the hatred directed at certain people simply because of their skin color; but we believe one's right to expression trumps political correctness, so we approve most posts like this one.]
Recently, I was scanning on Myspace and came across a black scene girl who isn't quite a complete train wreck. Yet.
OH, but give her time, and the stupid scene fad will melt her hair off her head. This girl has had so many hair colors in her nasty mess of hair, she'll be bald before Kiki. She's going to end up spending her all money on trashy makeup, abortions, plastic surgery to fix her ugly face, it's going to send her pretty ass out onto the streets where she will be cursed unto a life of selling her pussy like Amore.
Her retarded scene name is "Devan Luxe". What does that even mean? I heard she gets guys like Joey Furr naked on Stickam Chats, so be on the lookout for this cum-craving slut.
http://www.myspace.com/devanbejealous
http://www.stickam.com/devandecap